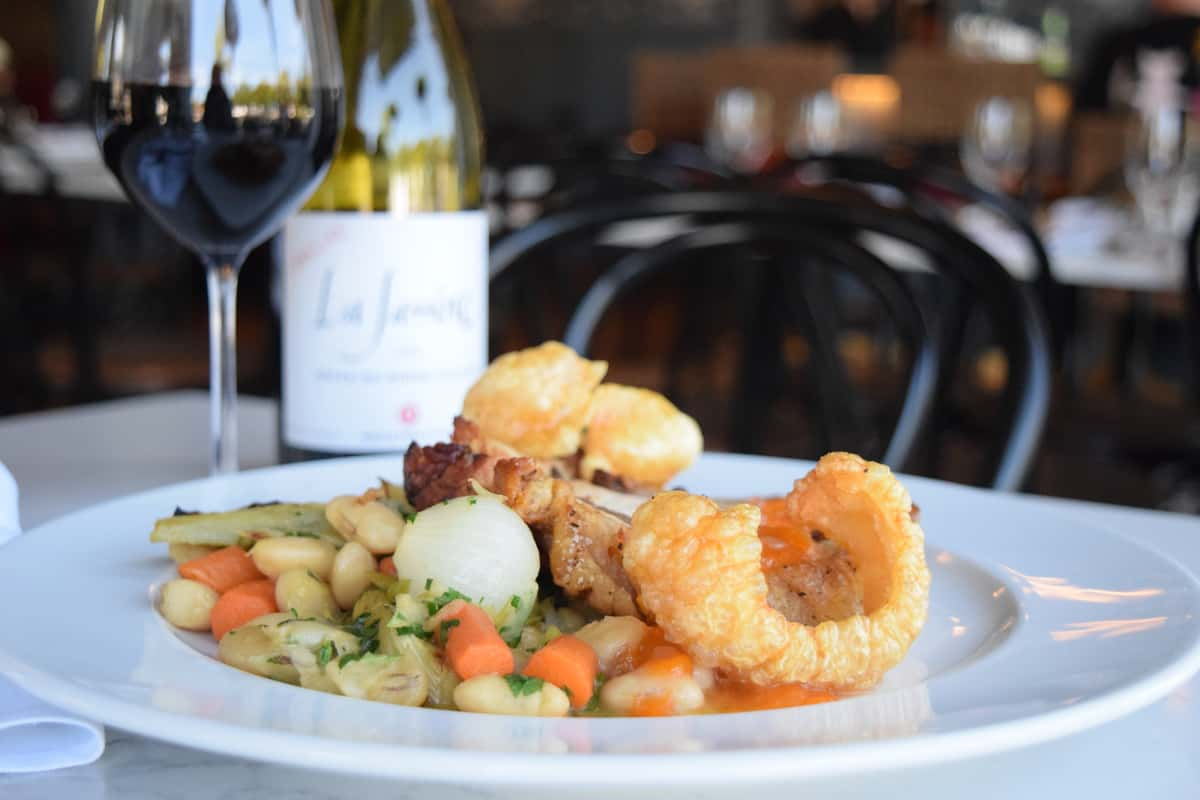 Celebrate La Fête du Cochon at Petite Left Bank: A Feast for Pork Lovers
Celebrate La Fête du Cochon at Petite Left Bank: A Feast for Pork Lovers
Welcome to the celebration of the cherished French tradition of La Fête du Cochon 2023. From June 5th to June 11th, immerse yourself in a week-long extravaganza of porcine delights as we pay homage to the juicy and succulent splendor of the pig. Indulge in our marvelous menu additions, accompanied by expertly selected French wine pairings, and mark your calendars for a special outdoor event on Saturday, June 10th. Get ready to raise a glass and cheer to Le Cochon!
At Petite Left Bank, we have crafted exquisite menu additions that showcase the versatility and flavors of porcine delicacies. Prepare to tantalize your taste buds with these mouthwatering creations:
Housemade Pork Terrine:
Savor the delicate flavors of our Housemade Pork Terrine, served with an herb and fennel salad and a tangy whole grain mustard vinaigrette. The terrine, prepared with care and expertise, boasts a perfect balance of textures and is paired impeccably with Trimbach's Pinot Blanc from Alsace, FRA '19.
Porchetta:
Indulge in the show-stopping Porchetta, a slow-roasted pork masterpiece, featuring a tender and flavorful pork loin wrapped in crispy crackling skin. Served with a delightful cranberry bean ragout, stone fruit chutney, and crispy chicharron, this dish is a celebration of the pig in all its glory. Pair it with a glass of Bieler Pere et Fils, Côtes du Rhône-Villages, "La Jassine," Rhône, FRA '21, and elevate your dining experience to new heights.
On Sunday, June 11th, from 12 PM to 5 PM, join us on our patio for a sizzling outdoor grilled station. Indulge in the irresistible Housemade Pork Sausage Sandwich, served on an Acme baguette and topped with onion marmalade and whole grain mustard. The flavors are perfectly complemented by a refreshing glass of Sincere Dry Apple Cider from Napa, CA.
La Fête du Cochon menu additions are available for both lunch and dinner, alongside our regular menu items. For those looking for the perfect wine pairing, our sommelier has thoughtfully selected French wines to accompany each menu addition. Be sure to inquire about the wine pairings when you visit us.
Come and celebrate La Fête du Cochon at Petite Left Bank, where we embrace the spirit of French tradition and the love for all things porcine. From our tantalizing Housemade Pork Terrine to the show-stopping Porchetta, each dish is a testament to the skill and dedication of our culinary team. Don't miss the outdoor grilled station on Sunday, June 11th, where you can savor the mouthwatering Housemade Pork Sausage Sandwich while enjoying the vibrant ambiance of our patio. Join us for a week of revelry, feasting, and raising a glass to le cochon!